Key Takeaways:
Preserving wealth, especially for retirement, is a consistent top concern—even among the affluent.
Mitigating taxes and ensuring loved ones are taken care of are other top-of-mind issues.
Planning around your various financial concerns should be coordinated.
Most of us lead very busy lives and feel like we're continually juggling multiple priorities and demands on our time. But as you make plans for your future, it's important to take a step back from all those daily responsibilities and really consider the road ahead.
If you think about it, you are essentially the chief executive officer of your family. You play a crucial role in making the decisions that will determine whether you will achieve your financial dreams.
That's why it makes sense to have great clarity about the specific financial issues and concerns that are most important to you and the people you care about. Only then can you take steps designed to address them.
Five key concerns of the affluent
In our experience—and supported by research—we find that affluent investors tend to share five major key concerns about their financial futures. Of course, it's not the case that every affluent investor would agree with the five items on this list. The affluent are not some monolithic group. But in general, investors with significant assets cite these as the biggest financial issues they're looking to address.
Think about your own financial life as you review these top concerns. You may have additional issues that are unique to your specific situation, but chances are that many (and maybe all) of these challenges are on your list.
Concern #1: Preserving your wealth
Your goal with wealth preservation is to produce the best possible investment returns consistent with your time frame and tolerance for taking investment risk. Think of it like this: It's not about how much you make; it's about how much you don't lose.
Preserving wealth throughout one's lifetime has become the single biggest financial issue that most of today's affluent investors face. Just ask yourself this question: How sure are you that you have, or will eventually have, the wealth that is required to meet your needs, reach your various goals and live the life you want?
A vast majority of affluent investors are asking themselves this very question. In a landmark study, nearly 90 percent said that they were quite concerned about preserving their wealth (see Exhibit 1). What's more, nearly three-quarters of investors—71.5 percent—said that they worry about having enough money to last throughout their retirements.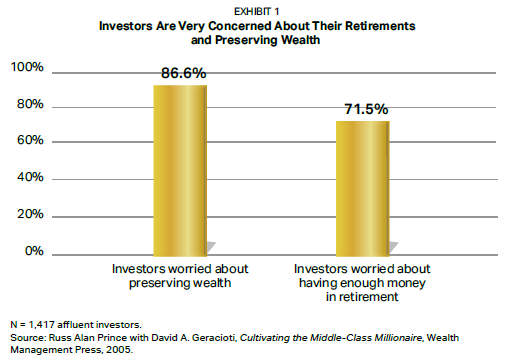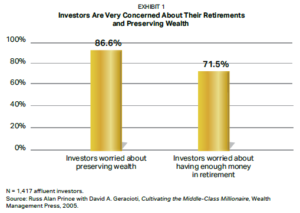 Since that study, we have found that these issues have consistently been at the top of the list for the majority of affluent investors year in and year out. For example, "maintaining current financial position" was the top concern among investors with $3 million or more in net worth, according to Spectrem Group. Clearly, having significant wealth doesn't erase or minimize the fear of losing what you have worked hard to build up over the years. That makes sense. After all, there's simply too much at stake not to be concerned. The prospect of downshifting our lifestyles isn't the least bit appealing to most of us. And yet, some affluent investors have found that they may need to make significant compromises to their future plans because they face the very real threat of failing to preserve their wealth.
Some of the challenges you face are emerging, while others have been with us for a long time. Regardless, they can leave even highly affluent families feeling insecure about their future prospects. In the wake of that uncertainty, it is absolutely crucial that you make the smartest possible decisions about your wealth based on the realities of the world.
Concern #2: Seeking to Enhance your wealth
The affluent also tend to seek to enhance their wealth by addressing the tax impact on their financial picture. Taxes may be, as Franklin D. Roosevelt once said, "dues that we pay for the privileges of membership in an organized society." But that doesn't mean investors look forward to paying for those privileges.
Tax mitigation has been a particularly important issue among the affluent in recent years, due to a great deal of discussion in Congress about increasing taxes on high earners and those with significant assets. It's no surprise that many people share these tax-related concerns. Taxes can—and do—eat up a great deal of wealth.
Take income taxes. Many affluent families today have become successful by working hard and earning substantial incomes in the process. In fact, the incomes of high earners have grown by a much greater percentage over time than have the incomes of lower earners. As a result, the affluent pay a significant percentage of all federal income taxes. Taxes on investment returns also can have a big impact on the ability to grow and preserve wealth.
Obviously, no one can be certain what the future holds when it comes to the government's decisions about tax rates and other aspects of the tax code. This uncertainty is preventing many families today from taking a proactive approach to tax planning. This is a big and potentially very costly mistake. If you're ignoring the issue and waiting for 100 percent clarity, you'll probably be waiting a long time! Tax mitigation needs to be a key part of any financial plan for you and your family regardless of the political environment at any given time. You can, for example, create a wealth management plan that has ample flexibility should the tax environment change for the better or the worse.
Concern #3: Transferring your wealth
Have you considered the legacy and financial resources that you will one day leave to your family? And do you have a plan in place for passing your wealth on to family members, either now or down the road?
If so, is it up to date and does it reflect current laws as well as your family's current and future needs, goals and level of wealth?
The fact is, it is very easy to ignore this crucial concern because addressing it requires us to ask ourselves questions that we may not have ever considered—or that we might prefer to ignore. For example, how do you want your assets to be distributed at death? How and when should your heirs receive an inheritance? How can liquidity needs be met if your estate is illiquid?
These questions may create some discomfort. But let's face it: Failing to address that your wealth goes exactly where you want it to go can lead to much greater discomfort later on and have serious ramifications on everything from your ability to help your family members achieve their goals (such as a college education) to the long-term success and sustainability of a family-owned business.
That's why families today need to be proactive in their wealth transfer planning efforts if they truly want their wealth to benefit their families to the full extent possible.
Concern #4: Preserving your wealth
Affluent investors don't just want to preserve their wealth against losses in the financial markets and guard against rising costs. They're also seeking to protect their assets from being unjustly taken from them by a catastrophic loss, potential creditors, litigants, ex-spouses and children's spouses, and even identity thieves.
This means that successful wealth management planning may also need to address wealth protection—controlling risks through business processes, employment agreements and buy-sells, as well as restructuring various assets and considering legal forms of ownership that put your wealth beyond the reach of creditors and other parties who may seek to unjustly take it.
Concern #5: Donating your wealth
Increasingly, affluent investors are looking outward beyond their own families to the world at large. For these investors, making meaningful gifts to charity in the most impactful way possible is becoming a key issue.
Charitable giving comes with its own unique set of challenges—from selecting the appropriate means of giving (such as direct gifts, donor-advised funds or private family foundations) to selecting causes and specific organizations that will have the biggest impact. Any gifting strategy you put in place should be set up for maximum effectiveness, of course. At the same time, however, you must ensure that your philanthropic objectives are in balance with your other key financial goals, such as retirement and the long-term financial security of your family. Navigating the charitable planning process should be a key part of a wealth management plan for philanthropically motivated individuals and families these days.
Coordinating your response
Review the list of the top financial concerns. Compare them with your own list. You will probably agree that each one taken on its own is daunting enough. But when you face many of these challenges and possibly even all five, as is the case with many affluent investors, it can have a huge impact on your ability to work towards a secure, comfortable and meaningful life. That's because none of these five areas of concern stands in isolation from the rest. Wealth protection, for example, is often intertwined with wealth transfer needs. And charitable giving can often support goals in each of the other four areas.
Remember, all of the key areas of your financial life are tied together in ways both large and small. Plotting out strategies for just one area at the expense of the others is therefore a recipe for suboptimal results. To be most effective, you need to deal with each area systematically while also taking an integrated approach to your overall financial picture at all times.
VFO Inner Circle Special Report
By John J. Bowen Jr.
© Copyright 2023 by AES Nation, LLC. All rights reserved.
No part of this publication may be reproduced or retransmitted in any form or by any means, including but not limited to electronic, mechanical, photocopying, recording or any information storage retrieval system, without the prior written permission of the publisher. Unauthorized copying may subject violators to criminal penalties as well as liabilities for substantial monetary damages up to $100,000 per infringement, costs and attorneys' fees.
This publication should not be utilized as a substitute for professional advice in specific situations. If legal, medical, accounting, financial, consulting, coaching or other professional advice is required, the services of the appropriate professional should be sought. Neither the author nor the publisher may be held liable in any way for any interpretation or use of the information in this publication.
The author will make recommendations for solutions for you to explore that are not his own. Any recommendation is always based on the author's research and experience.
The information contained herein is accurate to the best of the publisher's and author's knowledge; however, the publisher and author can accept no responsibility for the accuracy or completeness of such information or for loss or damage caused by any use thereof.
LPL Tracking #434817.